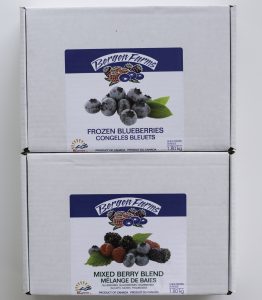 Enjoy the taste of summer all year long with Bergen Farms Frozen Berries! Our individually quick frozen berries are a must for anyone in need of an extended berry season. When we began this venture in 2007 we made it our goal to provide the consumers with a high quality, 100% local product: something that we believed was missing from the marketplace. Our berries are carefully inspected to ensure that each box meets our high standards. All berries are processed in a CFIA HACCP approved facility where strict food safety measures are always in place.
Our delicious berries can be enjoyed on their own, or used as a healthy addition to a wide variety of dishes including, but not limited to:
• cereal • muffins • fruit cups • milkshakes• yogurt • smoothies • pies • desserts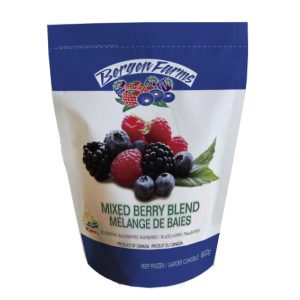 Our berries are available in three different sizes. There is a Bergen Farms frozen berry pack to fit your needs (and your freezer). We offer 1.8kg assorted berry boxes, a big 3.6kg blueberry box, and a 600g, re-sealable pouch. The same high quality frozen berries that you love in convenient sizes to fit your specific needs.
Look for our frozen berries at all Thrifty Foods stores in British Columbia and Calgary Co-Op!